I've considered myself a DIYer for years with the various projects I've completed around the house. As a realtor, I believe an easy way to update the look of your home you've just bought or are getting ready to sell is a fresh coat of paint. Luckily, paint is an inexpensive way to accomplish that.
The home interior painter's tools may take some time and investment to put together, but the end result will be worth it. Tools and materials needed to prepare your walls include items that protect the painter as well as get the job done:
Old clothes

Head protection such as a hat

Rubber gloves

Fine-grit sandpaper
Screwdrivers

Putty knife

Sponges

Adhesive remover

Dish detergent

Wallpaper steamer (if needed)

Adhesive drywall tape

Hand sanding block

Spackle

Drop cloth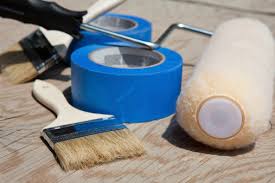 Remove pictures and any sort of hangings, including nails from walls, and move furniture out from the walls several feet or out of the room if you can. Whatever's left should be covered with a drop cloth. Remove switch plates and outlet plates.
To fix cracks in the walls, apply thin coats of spackle with a putty knife until the crack is covered. Allow it to dry according to the instructions on the type of spackle you chose. Then lightly sand it until it is smooth and blends well with the rest of the wall.
Now comes the hard part – thoroughly cleaning the walls and ceilings. Paint will adhere much better to clean walls and there's less chance of bubbling. And if there's any wallpaper glue residue left on the walls, the result is an interesting pattern under your paint that you hadn't planned on. Walls should be washed with detergent or a cleanser available at your hardware store. Wear your rubber gloves when working with these solutions. After a meticulous scrubbing, walls and ceilings should be rinsed thoroughly with water. Do this twice if after drying you feel residue on your surfaces.
Protect all woodwork trim with painter's tape. Be sure that your tape edges are straight. You'll need to mask the perimeter floor also. Do not remove the tape for at least 24 hours after painting to avoid pulling up part of your paint job with it.
On never-before-painted surfaces, priming is a must, but it's even a good idea on already painted walls when changing a dark color to a lighter color. It minimizes lap marks and seals the surface, which means a longer-lasting, better-looking paint job. Surfaces previously painted with enamel or gloss won't need to be primed.
Now you're ready to paint.